ARIA
ARIA
Universal Polyester Cabinets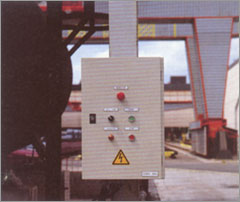 Range of seven universal multipurpose cabinets for in- and outdoor applications. Ideal for high performance applications in
- Heavy industry (pulp & paper mills, mining sites, wood & lumber production, steel mills…).
- Petroleum refineries, chemical and petrochemical plants.
- Temporary connection (for construction yards, camping sites, harbours for pleasure crafts, market places, fairs, …).
- Alimentation industry and breweries.
- Waste water treatment, public lighting, traffic control, signalization.
- For installation in aggressive environments such as shipyards, offshore oil production platforms, mining sites.

All cabinets are made of hot moulded, glass-fibre reinforced polyester, offering a high protection degree of IP66 with a mechanical impact strength of IK10 (IK07 for cabinets with glazed door).